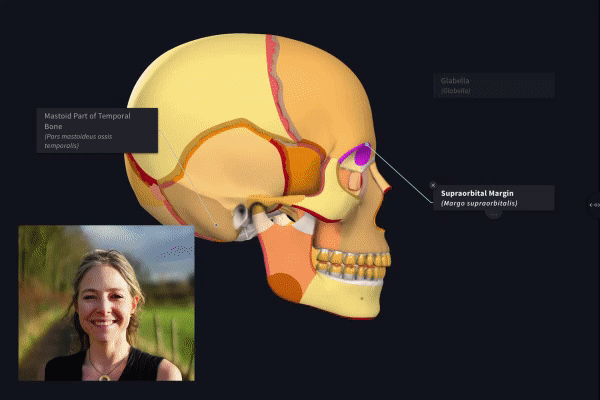 In celebration of our complete female model, the team at Complete Anatomy have collaborated with TV anatomist, Professor Alice Roberts, to create our very first course utilizing female anatomy. This brand-new course is a perfect introduction to students seeking to understand fundamental anatomical concepts related to female anatomy and sexual dimorphic differences between the female and male skeleton.
The course will first focus on the sexual dimorphic differences found between the female and male skeletal system, focusing on the skull and the pelvis. Next is further exploration of the female pelvis, looking at some of the key ligaments and muscles that offer support and function to the pelvic area before looking in-depth at the reproductive viscera and the major arterial supply.
What are the learning outcomes?
Upon completion of this course, you will be able to:
Understand the areas of sexual dimorphisim between female and male skeletal anatomy.
Identify the key ligaments and muscles that support and give function to the female pelvis.
Understand the relationships between female pelvic viscera and surrounding endopelvic fascia.
Describe the blood supply of the female pelvic viscera.
About the author:
Professor Alice Roberts is an anatomist, author and broadcaster. Having originally studied and practiced medicine, she then became a university lecturer, teaching clinical anatomy and undertaking research in biological anthropology. She is especially interested in the intersection between biology, archaeology and history, and the interaction between humans and the environment through time. She is passionate about public engagement with university research and teaching, and has been Professor of Public Engagement in Science at the University of Birmingham since 2012. Alice has presented over a hundred television programs, on subjects ranging from biology and archaeology and history, and has published numerous popular science books. Read more about Professor Roberts' mission to share academic research with wider society here.
How do I access the Course?
Female Anatomy with Professor Alice Roberts will be available for all customers with Institutional access, or those with a Student or Professional license after the June update. Simply Open the app, choose "Courses" from the Hub, and you will find it there alongside our full collection of Course content.
If you found this blog post useful, you might also enjoy learning about the differences between the male and female bony pelvises.