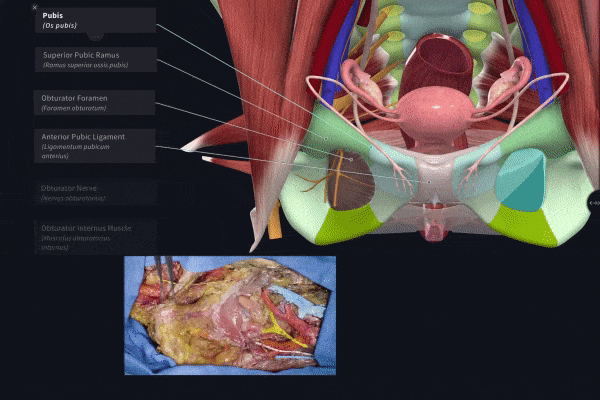 Last summer we released Guided Dissection: The Abdomen, a walk-through course that combined the learning power of 3D anatomy with video content from Gray's Surgical Anatomy. The response was extremely positive.
"This is an INCREDIBLE ADDITION!!! This is so good because it helps bring the anatomy to life. It has a cadaver right next to the atlas that the app has always provided."
You listened, we heard
In line with this summer's theme of Inclusive Learning in Action, we have produced Guided Dissection: The Pelvis, a Course that places female pelvic anatomy center-stage. Continue our virtual dissection series with an in-depth look at this region of the female anatomy. Relate the 3D model to the corresponding dissection videos as you explore the structures of the female pelvis. Like Guided Dissection: The Abdomen, it combines two leading Elsevier products, Complete Anatomy, and videos from Gray's Surgical Atlas, so you can be sure of top-quality content for your study.
As you progress through the Course, the female pelvis is dissected to provide a broad overview of the many important structures present. At each stage in the dissection, you can zoom into the 3D model to view intricate details which are otherwise tricky to identify in a live lab with a cadaver.
The course provides a comprehensive review of the pelvic region, providing you with an understanding of the pelvic diaphragm and key muscles, the placement of reproductive viscera and the external genitalia, and the various nerves, arteries and veins that supply the pelvis. With each layer, you will gain a deeper, clearer understanding of the complex relationships between structures.
Male pelvic anatomy coming soon
You may be asking where is the male pelvic anatomy? We're working on that! But this content is just too good to keep to ourselves in the meantime, so we've shared the female pelvic content as a tantalizing part 1 while we work on part 2.
What are the learning outcomes?
Upon completion of this course, you will have:
An overview understanding of the major viscera within the female pelvis.
Be able to identify key blood vessels and nerves which transmit through the female pelvis.
Appreciate the close relationship between the female reproductive organs and the surrounding peritoneum.
How do I access the Course?
Guided Dissection: The Pelvis will be available for all customers with Institutional access, or those with a Student or Professional license after the June update. Simply open the app, choose "Courses" from the Hub, and you will find it there alongside our full collection of Course content.
If you found this blog post useful, you might also enjoy learning about the differences between the male and female bony pelvises.