Looking back over the last 12 months, 2020 has certainly been the year of the educator for us at Complete Anatomy HQ. The team have listened to your feedback and taken on board your suggestions in order to consistently enhance your user experience and deliver the best in 3D anatomy learning.
Through regular interviews and focus groups, we were able to identify those gaps in our offering and figure out how we can deliver the best interactive presentation tool on the market. We've been consistently making improvements throughout the year, with features such as Export Image and Deep Links. Now we bring to you our biggest improvement for educators to date: Presentation mode.
We've transformed the Lecture experience in-app to create a pared-back Presentation Mode that gives you all the functionality you've had before plus more, all centralized in a familiar PowerPoint-style toolbar placed at the bottom of the screen. Everything is now within easy reach, and the best part? It no longer clashes with the default placement of video conferencing controls, meaning that delivering your lessons remotely is as easy as it is in the lecture hall.
Asynchronous learning has just become a whole lot easier. Now you no longer need to worry about cropping out the controls with our new pared-back interface.
But it doesn't just look better, there's a whole lot more packed into that little toolbar that will spark joy and make presenting your content a whole lot smoother. Let's dive in to look at some of the other improvements we've made.
You've asked for it, we delivered it – Pointer Tool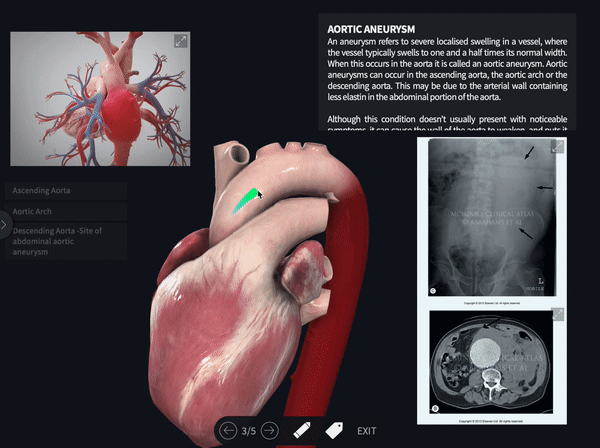 Focus your students' attention on particular points of interest with the brand-new Pointer tool. A laser pointer can be toggled on or off during lectures so that the presenter can easily highlight areas of importance. This was one of the most requested features out of all the feedback we received.
Quiz your students by toggling off Labels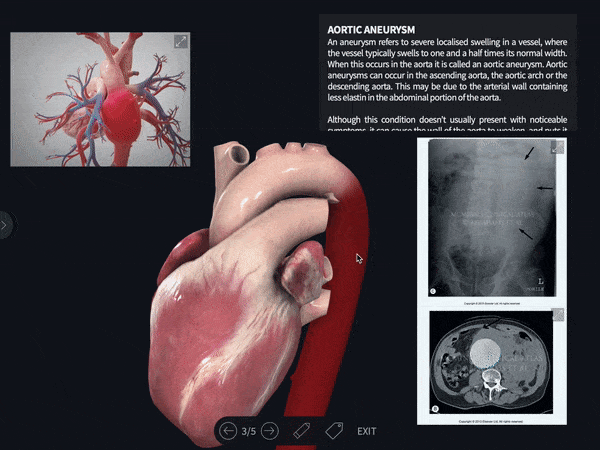 Lectures have become a whole lot more interactive with the power to show or hide Labels. Turn off Labels and ask your students to guess the structure before turning labels on.
Hot tip: when presenting on Zoom, get your students to label a structure using Zoom's Annotate tools, before revealing the right answer by turning labels on.
Top Bar hidden by default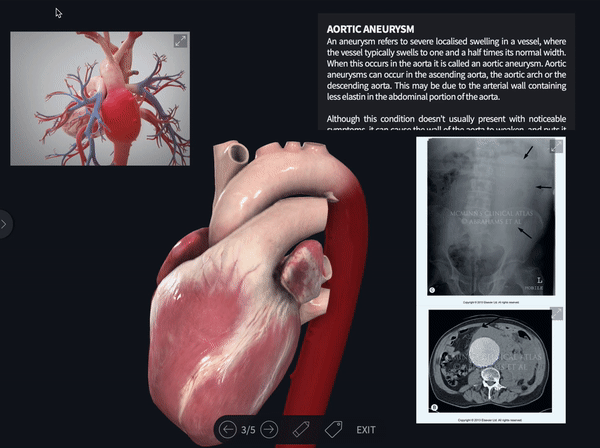 We know that when it comes to screen-space, more is more, so we've hidden the Top Bar to create a more focused and uninterrupted view. You can always see the name of your resource by clicking across the top of the screen.
Present the same Lecture multiple times
We've made other under-the-hood improvements to our user experience and have now made it easier for you to present the same Lecture multiple times. Now you can hop back into a Lecture you've finished and navigate through it multiple times.
At Complete Anatomy, our goal is to accelerate the transformation of medical learning, and so empowering our educator customers with features like Presentation Mode is crucial in enabling this. Next year's significant update will open up access to even more features, including increased interactivity for Screens and Lectures. So be sure to stay subscribed to Complete Anatomy and join us for another year of interactive 3D anatomy teaching.