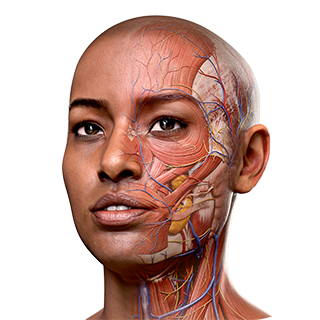 Complete Anatomy
Histology of the Human Organs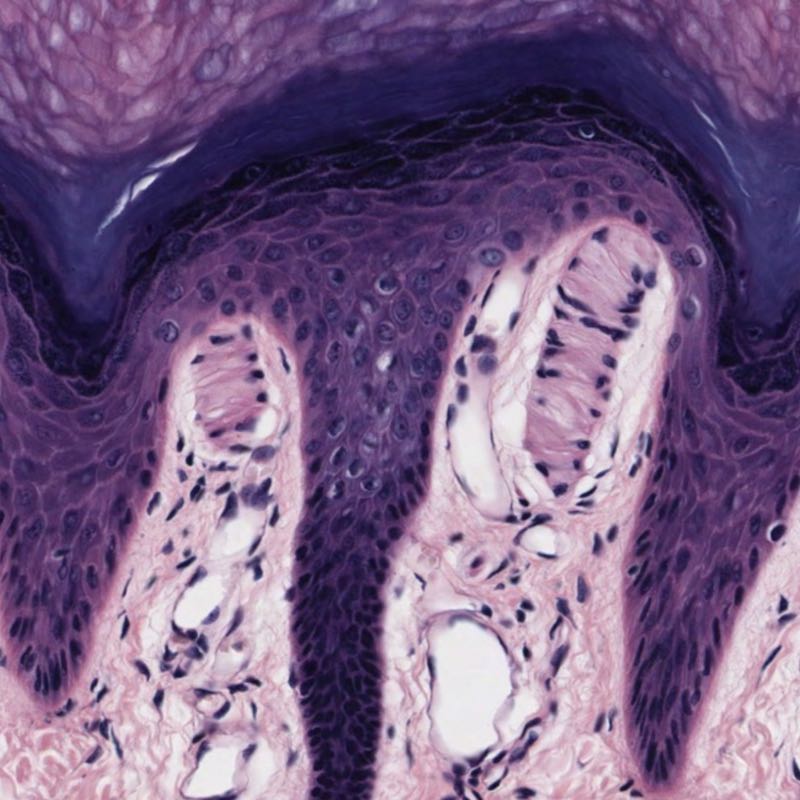 About this course
By Geoff Meyer
All body organs are made up of the four basic tissues: epithelium, connective tissue, muscle and nervous tissue. In this course, students are presented detailed descriptions of the histological structure and cellular specializations of organs and organ systems of the body accompanied by high resolution images of each tissue and organ. This curriculum in histology is typical of what students study in any medical, dental, and allied health course at colleges and universities throughout the world. This course was originally developed for The University of Western Australia, more information available here.
Learning Outcomes
done
Understand the microscopic structure of organs and so be able to identify and describe the major cells and tissues that comprise each organ of the body.
done
Relate the functions of cells and tissues to the function of the organ and the organ system.
done
Understand the histology of human organs within the context of cell biology in preparation for further study of pathology, and advanced cell biology and molecular biology.
Contents
Module 1
Histology: An Introduction
Introduction 1 - Course Syllabus
4 MINUTES
Introduction 2 - Artifacts due to Histological Processing Techniques
4 MINUTES
Introduction 3 - Limitations of Histological Stains/Dyes
2 MINUTES
Introduction 4 - 3D Interpretation from 2D Histological Sections
2 MINUTES
Module 2
Cardiovascular System
Lecture Overview
4 MINUTES
Heart Wall (Gross Anatomy)
2 MINUTES
Heart Wall (Histology)
4 MINUTES
Contractile Cardiac Muscle Fibres
2 MINUTES
Conducting Cardiac Muscle Fibres (Gross Anatomy)
2 MINUTES
Conducting Cardiac Muscle Fibres (Histology)
3 MINUTES
Aorta (Introduction)
3 MINUTES
Layers of the Aorta (Elastic Tissue Stained)
4 MINUTES
Layers of the Aorta (H&E Stained)
4 MINUTES
Large Muscular (Distributing) Artery
4 MINUTES
Small Muscular Artery (eg. in the Pancreas)
3 MINUTES
Small Muscular Artery (eg. in the Kidney)
3 MINUTES
Review of the Blood Vessel Wall
3 MINUTES
Arteriole and Venule (Transverse Section)
2 MINUTES
Arteriole and Venule (Longitudinal Section)
1 MINUTES
Smaller Arteriole and Venule
3 MINUTES
Capillaries
3 MINUTES
Valve in Vein
1 MINUTES
Large Vein (Vena Cava)
3 MINUTES
Module 3
Respiratory System
Lecture Overview
3 MINUTES
Nasal Cavity
3 MINUTES
Nasal Concha and Respiratory Tract Epithelium
4 MINUTES
Olfactory Epithelium
4 MINUTES
Larynx and Epiglottis
3 MINUTES
Vocal Folds
3 MINUTES
Trachea
3 MINUTES
Extrapulmonary Bronchus
3 MINUTES
Intrapulmonary Bronchus
4 MINUTES
Lung (Introduction)
2 MINUTES
Lung Lobule
2 MINUTES
Lung Acinus (Microanatomy Model)
4 MINUTES
Lung Acinus (Histology)
3 MINUTES
Pulmonary Artery and Pulmonary Vein
2 MINUTES
Alveolar Duct and Interalveolar Septum (Microanatomy Model)
3 MINUTES
Interalveolar Septum - Cell Types
2 MINUTES
Visceral Pleura
2 MINUTES
Module 4
Endocrine System
Lecture Overview
3 MINUTES
Pituitary Gland (Gross Anatomy)
1 MINUTES
Pituitary Gland (Introduction - Histology)
4 MINUTES
Adenohypophysis (Anterior Pituitary)
4 MINUTES
Neurohypophysis (Posterior Pituitary)
2 MINUTES
Pituitary Gland (Pars Nervosa)
1 MINUTES
Pituitary Gland - Pars Distalis and Nervosa (H&E Stain)
4 MINUTES
Thyroid Gland
5 MINUTES
Parathyroid Gland
2 MINUTES
Endocrine Pancreas
3 MINUTES
Adrenal Gland - Introduction
3 MINUTES
Adrenal Gland - Layers of the Cortex and Blood Supply
3 MINUTES
Adrenal Medulla
4 MINUTES
Module 5
Female Reproductive System
Lecture Overview
3 MINUTES
Female Reproductive System (Anatomy)
2 MINUTES
Ovary ("Germinal Epithelium", Tunica Albuginea and Primary Follicles)
4 MINUTES
Ovary (Primary and Secondary Oocytes; Theca Interna and Theca Externa)
2 MINUTES
Ovary (Secondary and Pre-Ovulatory Follicle)
2 MINUTES
Ovary (Atretic Follicle; Degenerated Zona Pellucida and Glassy Membrane)
2 MINUTES
Corpus Luteum and Corpus Albicans
3 MINUTES
Uterine Tube
2 MINUTES
Uterus (Proliferative and Secretory Endometrium)
5 MINUTES
Cervix and Vagina
3 MINUTES
Module 6
Male Reproductive System
Lecture Overview
2 MINUTES
Male Reproductive System (Gross Anatomy)
3 MINUTES
Testis and Tunica Albuginea
2 MINUTES
Seminiferous Tubule (Spermatogenic Cells)
5 MINUTES
Leydig Cell (Interstitial Cell of the Testis)
1 MINUTES
Rete Testis
2 MINUTES
Epididymis
3 MINUTES
Spermatic Cord
2 MINUTES
Prostate
3 MINUTES
Seminal Vesicle
2 MINUTES
Penis and Clitoris
4 MINUTES
Lecture Overview
2 MINUTES
Kidney Anatomy and Blood Supply
3 MINUTES
Kidney Cortex and Medulla
2 MINUTES
Renal Corpuscle. Proximal and Distal Convoluted Tubule and Macula Densa
4 MINUTES
Kidney Lobule, Interlobular Artery and Vein
3 MINUTES
Afferent and Efferent Arteriole and Vasa Recta
2 MINUTES
Proximal and Distal Straight Tubules, Collecting Tubules; Loop of Henle
2 MINUTES
Renal Papilla and Kidney Capsule
2 MINUTES
Ureter
2 MINUTES
Urinary Bladder
2 MINUTES
Female and Male Urethra
3 MINUTES
Module 8
Lymphatic System
Lecture Overview
3 MINUTES
Lymphatic System (Introduction)
2 MINUTES
Diffuse Lymphatic Tissue and a Primary Lymph Nodule
4 MINUTES
Lymph Nodule
3 MINUTES
Palatine Tonsil
2 MINUTES
Lingual Tonsil
1 MINUTES
Peyer's Patches
1 MINUTES
Appendix
1 MINUTES
Lymphatic Vessels and Lymph Node (Introduction)
5 MINUTES
Lymph Node (Efferent and Afferent Lymphatic Vessels)
1 MINUTES
Lymph Node (Cortex, paracortex and Medulla)
2 MINUTES
High Endothelial Venules and Reticular Fibres
3 MINUTES
Bronchial Lymph Node
1 MINUTES
Thymus (Introduction)
1 MINUTES
Thymus
4 MINUTES
Spleen (Introduction)
3 MINUTES
Spleen (White Pulp)
3 MINUTES
Spleen (Red Pulp)
2 MINUTES
Spleen Blood Supply
3 MINUTES
Module 9
Oral Cavity, Tooth and Gingiva
Lecture Overview
3 MINUTES
Oral Cavity, Tooth and Gingiva (Introduction)
3 MINUTES
Lip and Labial Gland
4 MINUTES
Hard Palate
3 MINUTES
Ground Tooth
3 MINUTES
Decalcified Tooth, Pulp Cavity and Periodontal Ligament
4 MINUTES
Gingiva and Periodontium
3 MINUTES
Parotid Gland
4 MINUTES
Submandibular Gland
3 MINUTES
Sublingual Gland
3 MINUTES
Tongue
5 MINUTES
Module 10
Osophagus and Gastrointestinal Tract
Lecture Overview
3 MINUTES
Layers of the Gut Wall
5 MINUTES
Gut Mucosa
4 MINUTES
Esophagus (Introduction)
1 MINUTES
Esophagus
2 MINUTES
Stomach (Introduction)
2 MINUTES
Stomach (Cardiac and Pyloric Region and Rugae)
4 MINUTES
Stomach (Fundus Region)
4 MINUTES
Small Intestine (Introduction)
2 MINUTES
Lower Duodenum - Plicae Circulares, Submucosa, Muscularis Externa and Myenteric Plexus
3 MINUTES
Lower Duodenum, Enterocyte, Brush Border, Goblet Cell and Lamina Propria
2 MINUTES
Lower Duodenum - Muscosa and Crypts including Paneth Cells
2 MINUTES
Upper Duodenum, Brunner's Glands and Pyloric Sphincter
2 MINUTES
Crypts of Lieberkuhn and stem cell division
2 MINUTES
Jejunum and Ileum
1 MINUTES
Colon (Introduction)
2 MINUTES
Colon
3 MINUTES
Recto-Anal Junction
2 MINUTES
Module 11
Liver, Gallbladder and Pancreas
Lecture Overview
3 MINUTES
Liver, Gallbladder and Exocrine Pancreas (Introduction)
3 MINUTES
Liver
5 MINUTES
Gallbladder
2 MINUTES
Pancreas (Lobules)
3 MINUTES
Exocrine Pancreas (Intercalated Duct and Centroacinar Cell)
2 MINUTES
Pancreas (Secretory Acinus)
2 MINUTES
Lecture Overview
2 MINUTES
Eyeball
3 MINUTES
Retina
5 MINUTES
Anterior Eye
5 MINUTES
Cornea
2 MINUTES
Lens
2 MINUTES
Optic Tract
2 MINUTES
Optic Disc
1 MINUTES
Lecture Overview
2 MINUTES
Ear (Introduction)
4 MINUTES
Internal Ear (Histology)
3 MINUTES
Crista Ampularis and Cupula
1 MINUTES
Macula of the Utricle
1 MINUTES
Organ of Corti
3 MINUTES
Extenal Ear Canal
1 MINUTES
Module 14
Integumentary System
Lecture Overview
3 MINUTES
Thick Skin
2 MINUTES
Layers of the Epidermis
3 MINUTES
Sweat Gland
3 MINUTES
Meissner's and Pacinian Corpuscle
2 MINUTES
Melanocyte and Antigen Presenting Cell
2 MINUTES
Thin Skin
2 MINUTES
Hair Follicle
2 MINUTES
Sebaceous Gland
2 MINUTES
Toenail
2 MINUTES
Ceruminous Gland
2 MINUTES
LECTURE 1
Histology: An Introduction
Introduction 1 - Course Syllabus
4 MINUTES
Introduction 2 - Artifacts due to Histological Processing Techniques
4 MINUTES
Introduction 3 - Limitations of Histological Stains/Dyes
2 MINUTES
Introduction 4 - 3D Interpretation from 2D Histological Sections
2 MINUTES
LECTURE 2
Cardiovascular System
Lecture Overview
4 MINUTES
Heart Wall (Gross Anatomy)
2 MINUTES
Heart Wall (Histology)
4 MINUTES
Contractile Cardiac Muscle Fibres
2 MINUTES
Conducting Cardiac Muscle Fibres (Gross Anatomy)
2 MINUTES
Conducting Cardiac Muscle Fibres (Histology)
3 MINUTES
Aorta (Introduction)
3 MINUTES
Layers of the Aorta (Elastic Tissue Stained)
4 MINUTES
Layers of the Aorta (H&E Stained)
4 MINUTES
Large Muscular (Distributing) Artery
4 MINUTES
Small Muscular Artery (eg. in the Pancreas)
3 MINUTES
Small Muscular Artery (eg. in the Kidney)
3 MINUTES
Review of the Blood Vessel Wall
3 MINUTES
Arteriole and Venule (Transverse Section)
2 MINUTES
Arteriole and Venule (Longitudinal Section)
1 MINUTES
Smaller Arteriole and Venule
3 MINUTES
Capillaries
3 MINUTES
Valve in Vein
1 MINUTES
Large Vein (Vena Cava)
3 MINUTES
LECTURE 3
Respiratory System
Lecture Overview
3 MINUTES
Nasal Cavity
3 MINUTES
Nasal Concha and Respiratory Tract Epithelium
4 MINUTES
Olfactory Epithelium
4 MINUTES
Larynx and Epiglottis
3 MINUTES
Vocal Folds
3 MINUTES
Trachea
3 MINUTES
Extrapulmonary Bronchus
3 MINUTES
Intrapulmonary Bronchus
4 MINUTES
Lung (Introduction)
2 MINUTES
Lung Lobule
2 MINUTES
Lung Acinus (Microanatomy Model)
4 MINUTES
Lung Acinus (Histology)
3 MINUTES
Pulmonary Artery and Pulmonary Vein
2 MINUTES
Alveolar Duct and Interalveolar Septum (Microanatomy Model)
3 MINUTES
Interalveolar Septum - Cell Types
2 MINUTES
Visceral Pleura
2 MINUTES
LECTURE 4
Endocrine System
Lecture Overview
3 MINUTES
Pituitary Gland (Gross Anatomy)
1 MINUTES
Pituitary Gland (Introduction - Histology)
4 MINUTES
Adenohypophysis (Anterior Pituitary)
4 MINUTES
Neurohypophysis (Posterior Pituitary)
2 MINUTES
Pituitary Gland (Pars Nervosa)
1 MINUTES
Pituitary Gland - Pars Distalis and Nervosa (H&E Stain)
4 MINUTES
Thyroid Gland
5 MINUTES
Parathyroid Gland
2 MINUTES
Endocrine Pancreas
3 MINUTES
Adrenal Gland - Introduction
3 MINUTES
Adrenal Gland - Layers of the Cortex and Blood Supply
3 MINUTES
Adrenal Medulla
4 MINUTES
LECTURE 5
Female Reproductive System
Lecture Overview
3 MINUTES
Female Reproductive System (Anatomy)
2 MINUTES
Ovary ("Germinal Epithelium", Tunica Albuginea and Primary Follicles)
4 MINUTES
Ovary (Primary and Secondary Oocytes; Theca Interna and Theca Externa)
2 MINUTES
Ovary (Secondary and Pre-Ovulatory Follicle)
2 MINUTES
Ovary (Atretic Follicle; Degenerated Zona Pellucida and Glassy Membrane)
2 MINUTES
Corpus Luteum and Corpus Albicans
3 MINUTES
Uterine Tube
2 MINUTES
Uterus (Proliferative and Secretory Endometrium)
5 MINUTES
Cervix and Vagina
3 MINUTES
LECTURE 6
Male Reproductive System
Lecture Overview
2 MINUTES
Male Reproductive System (Gross Anatomy)
3 MINUTES
Testis and Tunica Albuginea
2 MINUTES
Seminiferous Tubule (Spermatogenic Cells)
5 MINUTES
Leydig Cell (Interstitial Cell of the Testis)
1 MINUTES
Rete Testis
2 MINUTES
Epididymis
3 MINUTES
Spermatic Cord
2 MINUTES
Prostate
3 MINUTES
Seminal Vesicle
2 MINUTES
Penis and Clitoris
4 MINUTES
Lecture Overview
2 MINUTES
Kidney Anatomy and Blood Supply
3 MINUTES
Kidney Cortex and Medulla
2 MINUTES
Renal Corpuscle. Proximal and Distal Convoluted Tubule and Macula Densa
4 MINUTES
Kidney Lobule, Interlobular Artery and Vein
3 MINUTES
Afferent and Efferent Arteriole and Vasa Recta
2 MINUTES
Proximal and Distal Straight Tubules, Collecting Tubules; Loop of Henle
2 MINUTES
Renal Papilla and Kidney Capsule
2 MINUTES
Ureter
2 MINUTES
Urinary Bladder
2 MINUTES
Female and Male Urethra
3 MINUTES
LECTURE 8
Lymphatic System
Lecture Overview
3 MINUTES
Lymphatic System (Introduction)
2 MINUTES
Diffuse Lymphatic Tissue and a Primary Lymph Nodule
4 MINUTES
Lymph Nodule
3 MINUTES
Palatine Tonsil
2 MINUTES
Lingual Tonsil
1 MINUTES
Peyer's Patches
1 MINUTES
Appendix
1 MINUTES
Lymphatic Vessels and Lymph Node (Introduction)
5 MINUTES
Lymph Node (Efferent and Afferent Lymphatic Vessels)
1 MINUTES
Lymph Node (Cortex, paracortex and Medulla)
2 MINUTES
High Endothelial Venules and Reticular Fibres
3 MINUTES
Bronchial Lymph Node
1 MINUTES
Thymus (Introduction)
1 MINUTES
Thymus
4 MINUTES
Spleen (Introduction)
3 MINUTES
Spleen (White Pulp)
3 MINUTES
Spleen (Red Pulp)
2 MINUTES
Spleen Blood Supply
3 MINUTES
LECTURE 9
Oral Cavity, Tooth and Gingiva
Lecture Overview
3 MINUTES
Oral Cavity, Tooth and Gingiva (Introduction)
3 MINUTES
Lip and Labial Gland
4 MINUTES
Hard Palate
3 MINUTES
Ground Tooth
3 MINUTES
Decalcified Tooth, Pulp Cavity and Periodontal Ligament
4 MINUTES
Gingiva and Periodontium
3 MINUTES
Parotid Gland
4 MINUTES
Submandibular Gland
3 MINUTES
Sublingual Gland
3 MINUTES
Tongue
5 MINUTES
LECTURE 10
Osophagus and Gastrointestinal Tract
Lecture Overview
3 MINUTES
Layers of the Gut Wall
5 MINUTES
Gut Mucosa
4 MINUTES
Esophagus (Introduction)
1 MINUTES
Esophagus
2 MINUTES
Stomach (Introduction)
2 MINUTES
Stomach (Cardiac and Pyloric Region and Rugae)
4 MINUTES
Stomach (Fundus Region)
4 MINUTES
Small Intestine (Introduction)
2 MINUTES
Lower Duodenum - Plicae Circulares, Submucosa, Muscularis Externa and Myenteric Plexus
3 MINUTES
Lower Duodenum, Enterocyte, Brush Border, Goblet Cell and Lamina Propria
2 MINUTES
Lower Duodenum - Muscosa and Crypts including Paneth Cells
2 MINUTES
Upper Duodenum, Brunner's Glands and Pyloric Sphincter
2 MINUTES
Crypts of Lieberkuhn and stem cell division
2 MINUTES
Jejunum and Ileum
1 MINUTES
Colon (Introduction)
2 MINUTES
Colon
3 MINUTES
Recto-Anal Junction
2 MINUTES
LECTURE 11
Liver, Gallbladder and Pancreas
Lecture Overview
3 MINUTES
Liver, Gallbladder and Exocrine Pancreas (Introduction)
3 MINUTES
Liver
5 MINUTES
Gallbladder
2 MINUTES
Pancreas (Lobules)
3 MINUTES
Exocrine Pancreas (Intercalated Duct and Centroacinar Cell)
2 MINUTES
Pancreas (Secretory Acinus)
2 MINUTES
Lecture Overview
2 MINUTES
Eyeball
3 MINUTES
Retina
5 MINUTES
Anterior Eye
5 MINUTES
Cornea
2 MINUTES
Lens
2 MINUTES
Optic Tract
2 MINUTES
Optic Disc
1 MINUTES
Lecture Overview
2 MINUTES
Ear (Introduction)
4 MINUTES
Internal Ear (Histology)
3 MINUTES
Crista Ampularis and Cupula
1 MINUTES
Macula of the Utricle
1 MINUTES
Organ of Corti
3 MINUTES
Extenal Ear Canal
1 MINUTES
LECTURE 14
Integumentary System
Lecture Overview
3 MINUTES
Thick Skin
2 MINUTES
Layers of the Epidermis
3 MINUTES
Sweat Gland
3 MINUTES
Meissner's and Pacinian Corpuscle
2 MINUTES
Melanocyte and Antigen Presenting Cell
2 MINUTES
Thin Skin
2 MINUTES
Hair Follicle
2 MINUTES
Sebaceous Gland
2 MINUTES
Toenail
2 MINUTES
Ceruminous Gland
2 MINUTES