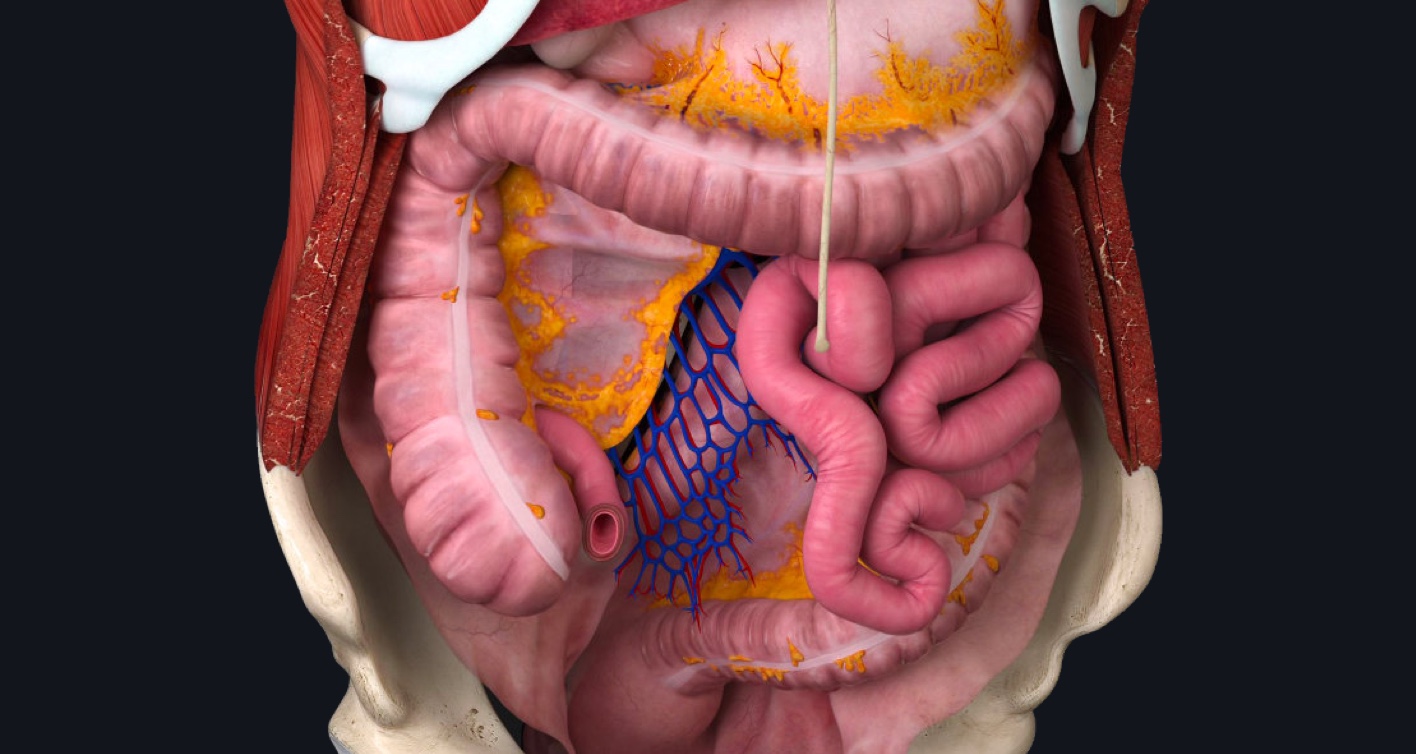 Creating a world class digital anatomy product is no small feat. To maintain this gold-standard in medical and anatomical education, we must stay on our toes and continually improve.
To this end, we've been fine-tuning our gross anatomy model and are excited to announce our Summer Release. Look for our new (and largest ever) update as we unveil the improved abdomen and spinal regions of the gross male model.
Involving a total of 2,382 structures, these individual edits and additions were based on precise anatomical research. Together they've helped us make our 3D gross anatomy model the best it can be: comprehensive, beautiful, intricate yet easy to use, and accessible for all levels of medical education.
Abdomen Updates
What's new? We've redesigned each organ of the abdominal region, adding hyper-realistic textures on both the outside and inside — allowing users to explore a fully 3D representation.
Peritoneum: We've added a fully 3D and interactive representation of this vital structure. No other digital 3D anatomy product includes the peritoneum in its entirety or with this level of detail. Studying this structure is vital to understanding its support of various organs and the role it plays in surgical and clinical understanding.
Colon and Liver: Two new (and highly detailed) models of the transverse colon and hepatic lobule serve as exceptional teaching and learning tools. No anatomystudy of the abdominal region is complete without understanding the layers of the colon or the functional units of the liver.
How can you use them? Probe all the compartments of the abdomen. Examineeach organ layer by layer. Use the cross-section tool on each organ, or on multiple organs together to recreate classic MRI/CT views for clinical correlation. Discover new levels of details and connect the dots.
Spine Updates
Vertebra: We've redesigned each of the individual 24 vertebra which make up the cervical, thoracic and lumbar regions of the vertebral column. New details reflect their shared and changing general features, as well as unique characteristics of C1, C2, C7, T1, T9-T12.
Connective and muscular tissue: Found around the vertebra, this extensive system of important tissue has been redesigned along with the new vertebral geometry. Newly added structures provide a fuller picture. You'll be able to clearly see how they support, stabilize and provide function to the vertebral column.
Spinal cord: Look for updates on over 500 neurovascular structures, e.g. the roots, ganglia, spinal nerves, and their respective rami. Our revamp comes with a complex representation of the arterial and venous supply to both the spinal cord and vertebral column at each respective level. Other new features include:
Cervical and lumbar enlargements
Cross sections depicting the changing pattern of white/grey matter (to be studied at each cervical, thoracic and lumbar level)
Spinal meninges (including the dura mater, arachnoid mater, and pia mater)
How can you use them? Teach cross-sectional anatomy at a whole new level of detail. Spotlight and survey each vertebrae, spine segment, tissue system andregion of the body's central support structure.
With these new Abdomen and Spine upgrades, you can now interact with an almost entirely cross-sectional model. With the brain as our final frontier, all other areas of the gross anatomy model can now be cut, revealing their complex internal relationships.
Teach and learn with the most anatomically accurate 3D depiction of the Spine &Abdomen on the market. New updates do more than just dazzle. They illuminate the anatomical relationships between the major organs; clarify vital functions, systems and structures; and reinforce deeper understanding and retention of gross anatomy studies.